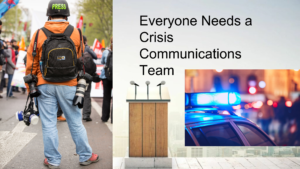 This five-part series of workshops covers the "before, during, and after" of creating/mobilizing, using, and demobilizing a crisis communications team. Before your organization builds a book of templated crisis communications messages (and we think you should, over time!), you will need a team to implement them, evaluate them, and then continuously refine them.
The course material includes a free crisis communications team plan template, which you can use – and modify yourself – through the various modules of these workshops.  You can also optionally see what others have done (generically) for their organizations and upload your own thoughts and ideas – for a shared experience with your other classmates. This provides an opportunity to learn from others as well. Again, not required, but something of a resource, we hope.
Once you complete the payment cart process, your last screen will contain a "Start Course" link, which you can use to start the course. If you don't see it – or stop midway in the course – you can always come back here to blog.bartondunant.com – there's a "Student Info" blue button at the top of each page on the right, where you can access all of your online courses.
Any issues or problems – please drop us a line at [email protected]
Also, there is no final exam for this course. You will receive a certificate, once all of the modules are completed for this course. This certificate and/or the course description page may be required for continuing education credit from your certifying entity (please confirm with them, as this is your responsibility). Thank you for your purchase of online courseware from Barton Dunant. Enjoy!